Seoul, the capital city, offers a serene atmosphere within its urban landscape, making it a popular tourist destination. As Buddha's birthday approaches on May 27th, let's explore five must-visit temples in Seoul.
Seoul is home to numerous temples that provide a peaceful escape from the bustling city life, attracting visitors as popular travel destinations. On the occasion of Buddha's birthday, here are five temples in Seoul that you should not miss.
Bongeunsa: Located in Gangnam's Samseong-dong, Bongeunsa Temple is easily accessible from Bongeunsa Station on Line 9, just a 2-minute walk away. With a history dating back to the Silla Dynasty, the temple showcases a rich heritage and cultural treasures. On Buddha's birthday, Bongeunsa hosts various events and ceremonies, allowing visitors to experience the vibrant temple culture. The surrounding forest also serves as a peaceful retreat for office workers and visitors.
Jogyesa: Situated in Jongno-gu's Suseong-dong, Jogyesa Temple is a popular destination for both locals and tourists due to its proximity to major attractions like Insa-dong and Gyeongbokgung Palace. Jogyesa offers a range of facilities, including a temple stay promotion hall, the Buddhist Central Museum, and a performance hall. Families with children will find the temple particularly appealing, as it provides well-equipped playgrounds and amenities. During Buddha's birthday, Jogyesa hosts various festive events, such as street busking and lantern parades.
International Seon Center: The International Seon Center aims to globalize the temple stay experience. It offers diverse programs, including temple stays in Korean and English, Singing Bowl experiences, and same-day temple stays. The center's architectural blend of traditional Korean hanok and modern design provides a unique atmosphere. With excellent accessibility through public transportation and facilities catering to wheelchair users, the International Seon Center ensures a comfortable visit for all.
Sookgasa: Located in Eunpyeong-gu, Sookgasa Temple stands out with its stunning golden exterior. The temple, established during the Joseon Dynasty, features a magnificent golden main hall, the largest of its kind in Asia. The entire building, except for the roof tiles, is adorned with golden paint, creating a mesmerizing sight. Sookgasa houses valuable treasures, including a Goryeo period statue of Amitabha Buddha and six Buddhist paintings. Nearby temples like Jingwansa and Samcheonsa, as well as the UNESCO World Heritage site Seooreung, make Sookgasa an ideal destination for an enriching temple tour.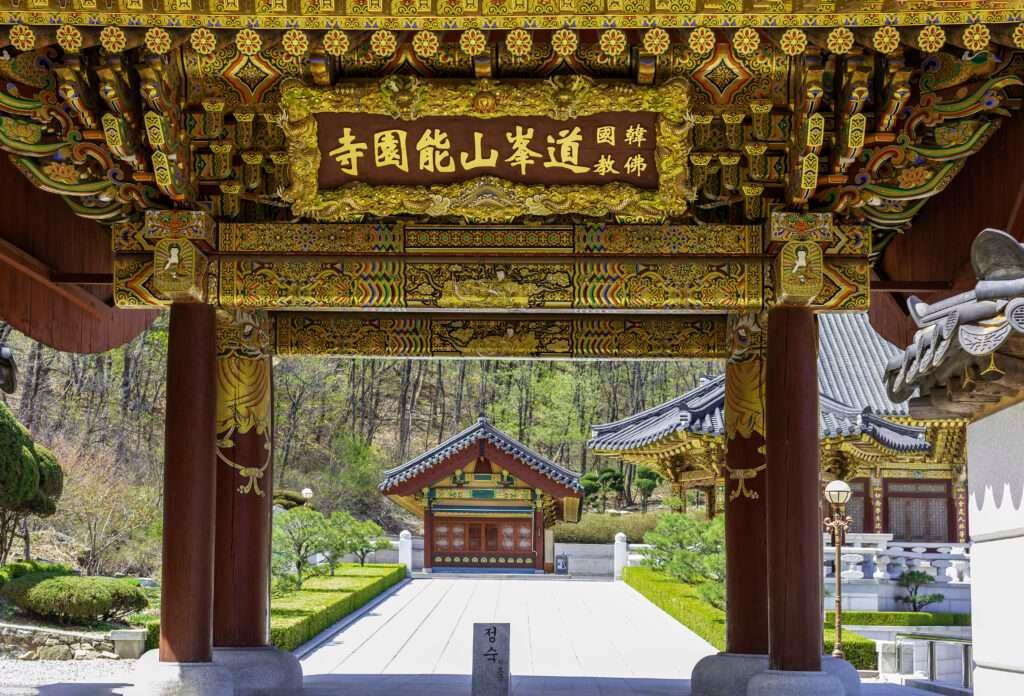 Neungwonsa: Nestled on Dobongsan Mountain, Neungwonsa Temple impresses visitors with its splendid golden halls. Over the course of 30 years, the temple has become a true gem with its intricate golden decorations. Despite its mountainous location, Neungwonsa provides a pleasant journey with well-designed pathways and wooden decks leading to the temple entrance. Exploring the "Dobong Old Trail," which includes nearby temples like Gwangnyunsa and Dobongsa, as well as scenic spots like Musugol Valley and an observation deck, offers a memorable experience.
Seoul's temples offer a glimpse into the city's rich cultural and spiritual heritage. Whether you seek a serene escape, cultural exploration, or a unique temple stay experience, these temples provide an unforgettable journey into the heart of Seoul's spirituality.
For more detailed information, you can check the official social media accounts of Seoul Tourism Foundation, including Instagram, Facebook, and Naver Blog.
Source: Seoul Tourism Foundation