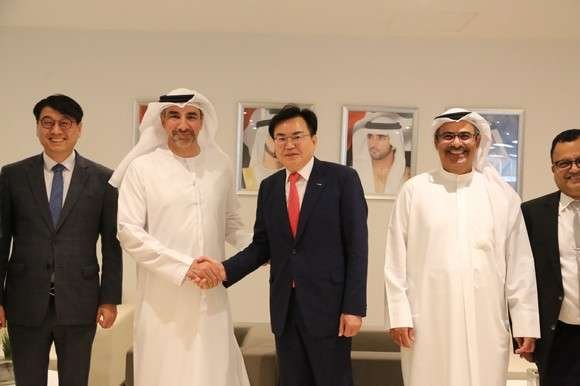 Daegu EXCO, a prominent exhibition and convention center in Daegu, South Korea, has announced a strategic collaboration with the renowned Dubai World Trade Center (DWTC) on May 22nd. This partnership aims to solidify Daegu EXCO's global presence and establish it as a premier international hub for exhibitions and conferences.
By joining forces with DWTC, the largest MICE (Meetings, Incentives, Conferences, and Exhibitions) complex center in the Middle East, Daegu EXCO takes a significant step towards its ambitious goals. The collaboration seeks to leverage DWTC's extensive experience, resources, and reputation to enhance Daegu EXCO's international standing in the industry.
During a productive visit to DWTC, Mr. Lee Sang-gil, CEO of Daegu EXCO, engaged in fruitful discussions with Mr. Mahir Julfar, Deputy CEO of DWTC. These discussions resulted in the identification of key areas for collaboration, including promoting innovative companies recommended by both entities, facilitating trade delegations and investment advisory teams, internationalizing exhibitions organized by both institutions, strengthening connections between exhibition venues and buyers, and enhancing exhibition promotion through the launch of new events and business gatherings.
DWTC, boasting an impressive 127,730 square meters of space, houses 21 exhibition halls and 400 meeting rooms. Established in 1979, it stands as the largest MICE complex center in the United Arab Emirates, hosting approximately 500 exhibitions annually and attracting over 3 million visitors from around the world.
Notable upcoming events at DWTC include 'GITEX Global,' the largest ICT exhibition in the Middle East, 'WETEX,' a prominent exhibition focusing on water, energy, technology, and the environment, and the 'Global EV Show,' which highlights sustainable mobility and aligns with the global carbon-neutral agenda.
Through the collaboration with DWTC, Daegu EXCO aims to enhance the international competitiveness of its flagship exhibitions, such as the prestigious 'International Green Energy Expo,' the esteemed 'Daegu International Future Mobility Expo,' and the cutting-edge 'ICT Convergence Expo.' Furthermore, both organizations are exploring opportunities for future joint exhibitions, fostering a platform for dynamic global industry exchange.
In addition to the partnership with DWTC, Daegu EXCO took advantage of the visit to engage with NAFFCO (National Fire Fighting Manufacturing Company), the largest manufacturer of firefighting equipment in the Middle East. Discussions were held with representatives from the National Fire Agency, National Fire Research Institute, and Fire Industry Association to explore avenues for collaboration and enhance the international competitiveness of Daegu EXCO's flagship exhibition, the 'International Fire Safety Expo.'
NAFFCO, present in over 100 countries, has confirmed its participation in the upcoming 'International Fire Safety Expo' at Daegu EXCO on August 30th. The company plans to showcase its products and expertise through an extensive exhibition booth, further strengthening ties with the Korean firefighting industry.
Moreover, NAFFCO will dispatch a dedicated team of experts to facilitate one-on-one purchasing consultations with domestic firefighting equipment companies during the expo. The company has committed to supporting Korean firefighting enterprises in their efforts to enter the Middle Eastern market by leveraging its global network.
Mr. Lee Sang-gil, CEO of Daegu EXCO, expressed his dedication to solidifying the partnership with DWTC and achieving tangible results as a global exhibition and convention center in the near future. He also emphasized the continuation of collaboration with NAFFCO, highlighting the shared objective of enhancing the international competitiveness of the 'International Fire Safety Expo.'
With these strategic alliances and a clear vision for global expansion, Daegu EXCO is poised to redefine its position in the international exhibition and convention industry. The collaborative efforts undertaken by Daegu EXCO, DWTC, and NAFFCO are expected to drive growth, foster innovation, and facilitate dynamic global exchanges within the industry.
By Jungchan Lee/The MICE