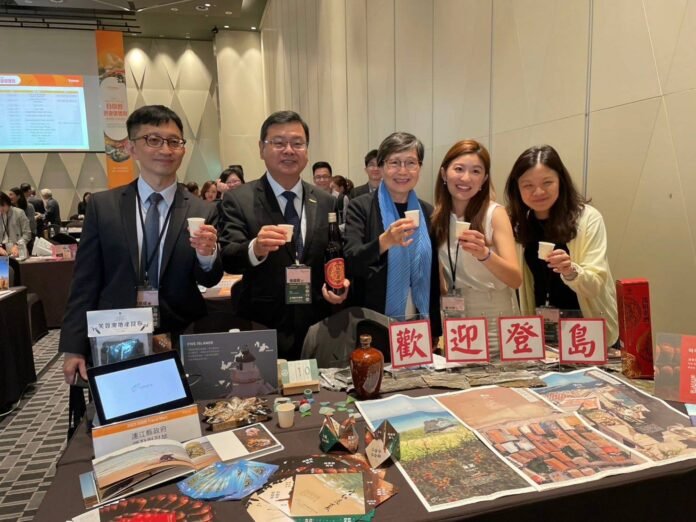 The captivating allure of Taiwan's tourism has sparked a surge of interest among Korean travelers, with Taiwan claiming the top spot as their preferred destination from January to March 2023. Seizing this momentum, the Taiwan Ministry of Transportation's Tourism Bureau organized a two-day event on June 16th and 17th in Korea, consisting of a B2B tourism briefing and a B2C tourism roadshow. Through these initiatives, the bureau aimed to demonstrate its commitment to surpassing the milestone of 6 million international tourists to Taiwan and provide Seoul residents with an immersive experience of Taiwan's vibrant and diverse offerings.
In 2019, Taiwan welcomed over 1.24 million Korean tourists, solidifying its position as the fourth most popular destination among Korean travelers. The upward trend continued in the first quarter of 2023, with a remarkable influx of 140,000 Korean visitors, securing Taiwan as the leading source market. According to Open Survey's "2022 Travel Trend Report," the primary factors influencing Korean travelers' choice of overseas destinations after the COVID-19 outbreak are "short travel distances" and a growing demand for "convenient travel experiences resembling domestic trips." Consequently, searches related to "Taiwan travel" have witnessed a substantial increase since the second half of 2022, particularly among the younger generation.
During the "36th Korea-Taiwan Tourism Exchange Meeting," Taiwan and Korea jointly declared their ambition to attract 3 million mutual visitors. Under the leadership of the Director-General of the Taiwan Ministry of Transportation's Tourism Bureau and the Chairman of the Taiwan Tourism Association, a Taiwan Tourism Briefing was held on June 16th at the Novotel Ambassador Seoul Yongsan Hotel.
The event brought together representatives from 42 organizations and 69 officials representing Taiwan's central and local governments, airlines, travel agencies, hotels, and other tourism-related industries. Over 50 industry professionals, including representatives from the Korea Tourism Organization, travel agencies, and media, were also invited to share the latest tourism benefits. As a gesture of appreciation, attendees received "Fong Luso," a cherished Taiwanese souvenir.
The Director-General of the Taiwan Ministry of Transportation's Tourism Bureau unveiled the "Accelerated Plan for Attracting International Tourists" with the goal of welcoming 6 million international visitors to Taiwan in 2023. The bureau extended a warm welcome to visitors from travel agencies and individual travelers by offering preferential policies. Under the slogan "I'm Taiwan-satisfied," the bureau aims to foster enthusiasm for traveling to Taiwan by actively promoting its unique attributes, such as exquisite cuisine, eco-friendly lifestyle, and natural beauty. As part of the event, the Director-General officially announced the appointment of the Taiwan Tourism Ambassador for the Korean market in 2023. Renowned actor "Wi Ha-jun," who recently starred in a highly acclaimed Korean drama series, expressed his excitement about visiting Taiwan at the end of June to shoot a promotional video. Anticipation is high for an unforgettable encounter with actor Wi Ha-jun in Taiwan.
Continuing their efforts to boost Taiwan's popularity in Korea, the Taiwan Tourism Bureau has planned a roadshow on June 17th in Seoul's vibrant Hongdae district, renowned for its youthful artistic energy. The event aims to captivate the younger generation by showcasing Taiwan's distinctive features. Attendees will have the opportunity to savor Taiwanese sandwiches, Fong Luso, mango beer, and KaVaLan whisky. Outdoor activities will include virtual reality bicycle experiences, neon sign DIY workshops, silk printing experiences, a performance by the Taiwanese band "Liu Sheng Ji," and a cocktail show by Bar Mood. Additionally, to cater to the preferences of Korean youths, the Taiwan Tourism Bureau Seoul Office organized a "Dance Challenge" event featuring the adorable mascot "Osong." The bureau hopes to create an engaging experience for Seoul residents by offering various incentives, including a chance for two lucky winners to receive round-trip air tickets between Taiwan and Korea.
With these initiatives, the Taiwan Tourism Bureau is dedicated to further strengthening the connection between Taiwan and Korea while providing Korean travelers with memorable experiences in Taiwan.
By Clara Lee/Korea Travel News