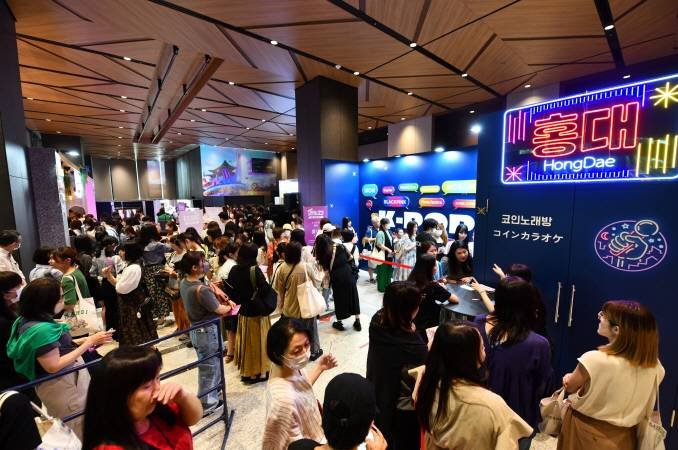 The "2023 Seoul Edition in Tokyo" promotion event held by Seoul City and the Seoul Tourism Foundation on June 24th and 25th at Tokyo Portcity Takeshiba turned out to be a tremendous success, attracting an impressive crowd of 3,000 visitors.
"Seoul Edition" served as the central theme of the event, showcasing Seoul as an exclusive and trendy destination through a limited-edition marketing campaign that captivated the attention of Tokyo residents.
The Seoul Tourism Foundation left no stone unturned in promoting Seoul's unique charm during the event. The program featured a captivating lineup of activities, including an exhilarating K-POP concert with popular groups like BTOB and AB6IX, a mesmerizing K-IDOL fashion show that showcased the stage costumes of idols from different generations, and an engaging Seoul dining talk show.
In addition to the main event, the streets outside were transformed into Seoul's hottest districts—Seongsu, Hongdae, Euljiro, and Gangnam—offering attendees an immersive "Doseoul Play" experience. It was an opportunity for visitors to enjoy Korean content and cuisine simultaneously, creating a vibrant and playful atmosphere.
Participants eagerly explored the diverse booths that offered unique activities. At the Seongsu booth, visitors underwent personal color diagnosis and created customized lip glosses based on their results. The Hongdae booth provided a thrilling coin karaoke experience, while the Euljiro booth allowed attendees to indulge in the ASMR sensations of K-FOOD. Lastly, the Gangnam booth invited guests to don school uniforms and capture memorable snapshots.
MC Kangnam kickstarted the event's highlight, the K-IDOL fashion show, which showcased the iconic stage outfits and performances of K-POP groups from different generations. Starting from 1st generation artists like BoA and Shinhwa, the show progressed to 4th generation sensations like NU'EST and Stray Kids, creating a captivating fashion spectacle.
During the Seoul tourism talk show, Mayor Oh Se-hoon surprised the audience by appearing as a chef. He passionately introduced Seoul's culinary delights, emphasizing the must-try experience of samgyeopsal (grilled pork belly) paired with soju at Gwanghwamun Square, the joy of sampling naengmyeon (cold noodles) near Cheongwadae, and the resurgence of traditional desserts like yakgwa and sikhye.
Mayor Oh also personally conducted prize draws, offering rewards such as hotel stays and airline tickets, adding an extra layer of excitement for the attendees.
The event concluded with exhilarating live performances by renowned K-POP acts, including BTOB, AB6IX, Kwon Eun-bi, and Class:y. Fans eagerly awaited this moment, expressing their support through enthusiastic sing-alongs and thunderous applause.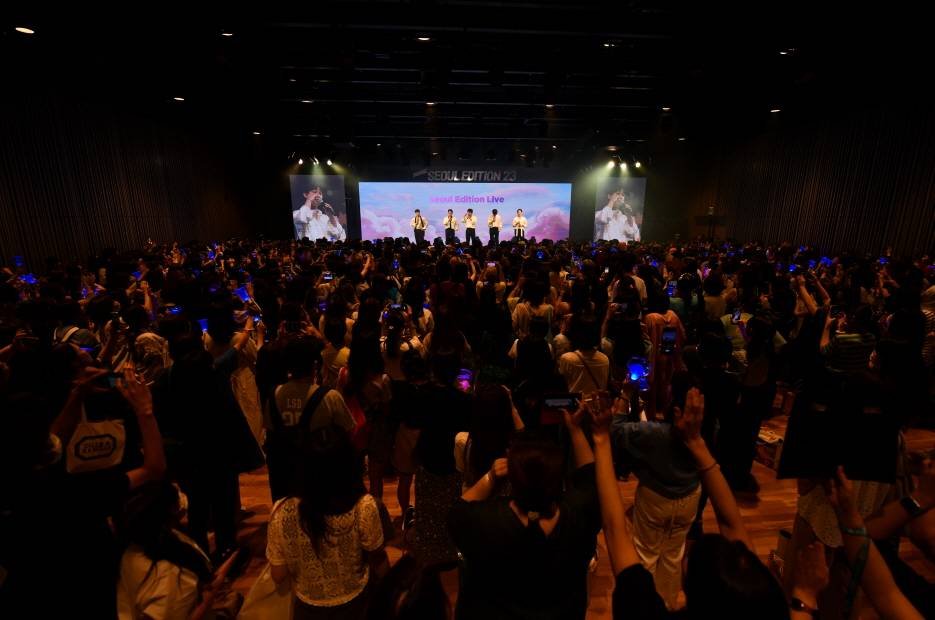 The "2023 Seoul Edition in Tokyo" event served as the launch of the "Seoul Edition 2023" tourism campaign, aimed at reigniting tourism exchanges between Seoul and Tokyo, and inspiring Japanese tourists to rediscover the charms of Seoul.
The resounding success of the event not only demonstrates the allure of Seoul but also reflects the Seoul Tourism Foundation's commitment to fostering stronger ties between the two cities, paving the way for a vibrant future of tourism collaboration.
By Jungchan Lee/Korea Travel News