The Ministry of Culture, Sports, and Tourism, in collaboration with the Korea Tourism Organization (KTO), is excited to reveal their ambitious "Challenge Korea" campaign. This initiative aims to capitalize on the success of the "2023-2024 Year of Visit Korea" and attract 30 million foreign tourists by 2027.
The campaign commences with the highly anticipated release of a captivating new Korean tourism overseas advertisement. Scheduled for June 27th at 10 a.m., the advertisement will have its global premiere on the official YouTube channel, "Imagine Your Korea."
The advertisement features renowned actor Lee Jung-jae as the honorary ambassador for Korean tourism and the ambassador for the "2023~2024 Year of Visit Korea." With a compelling message, Lee Jung-jae invites viewers to immerse themselves in the dynamic and unique experiences of K-culture by embracing the "Challenge Korea."
The advertisement consists of four captivating segments, each showcasing different facets of Korean culture and tourist destinations. The first segment, "Dance Dance Dance," highlights various K-pop dances, traditional tightrope walking, taekwondo performances, and dynamic dances incorporating rope skipping and bicycles. Through dance, people of all ages express the boundless passion and energy of Koreans. Renowned dance crew "Just Jerk" and K-dance instructor "Ria Kim" contribute to the advertisement's allure with their mesmerizing street dance performances.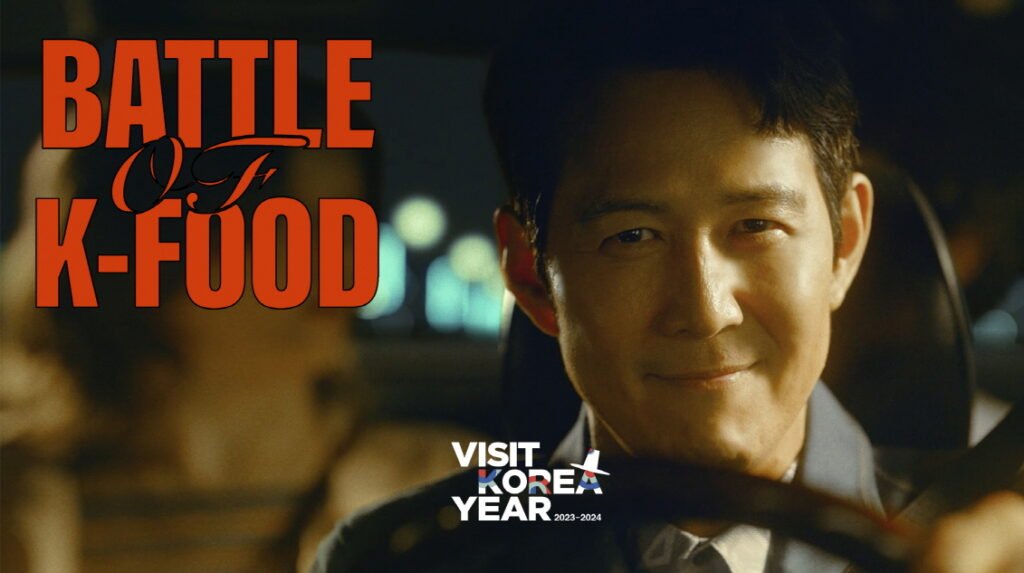 The second segment, "Battle of K-Food," introduces beloved local dishes that have won the hearts of Koreans, including Kalguksu (handmade noodle soup), Andong Jjimdak (braised chicken), Tteokgalbi (grilled short rib patties), and popular street foods like Tteokbokki (spicy rice cakes) and Twigim Sundae (deep-fried blood sausage). The advertisement vividly captures the vibrant atmosphere of iconic culinary destinations like Jeonju Gaeksa (Snack Alley) and Seoul Gwangjang Market.
Furthermore, the advertisement encompasses various themes that reflect global trends in Korea. "Shooting Star" taps into the recent trend of travel-oriented social media photos, while "Hello Future" presents Korea's futuristic urban landscapes in a stylish and immersive manner.
The new advertisement will be showcased on billboards in over 10 countries worldwide, starting from July and continuing until October. Notably, this year will mark the first time 3D advertisements will be displayed on renowned landmarks such as Times Square in the United States and Shinjuku Digital Billboard in Tokyo, amplifying the viral promotional effect. The advertisement will also be broadcasted through digital platforms such as YouTube, Meta, and TikTok, targeting the global MZ (Millennial and Gen Z) generations from 22 countries.
In addition, the "Challenge Korea Week" will take place at the Korea Tourism Promotion Center, Hiker Ground, from June 27th to July 2nd. Visitors will have the opportunity to explore the Overseas Advertisement Archive Zone on the third floor, which showcases the evolution of previous overseas advertisements from 2010 to 2022, as well as the chance to experience the latest 2023 advertisement.
Collaborations with renowned Korean brands from various fields, including food (Rueraeng), fashion (DANHA), beauty (Dear Dahlia), and lifestyle (Oimoo), are planned to provide consumers with an immersive experience of diverse aspects of Korean culture. Visitors who engage with all the K-brand pop-up booths on the 2nd to 5th floors of Hiker Ground will receive special gifts as a token of appreciation.
Lastly, the "Challenge Korea Content Awards" held from May 23rd to June 16th garnered the participation of 1,630 individuals who showcased captivating video and image content promoting the charm of Korea. A panel of experts selected 26 outstanding works, which will be honored at an award ceremony on June 30th at 2 p.m. on the 5th floor of Hiker Ground. The winning content will also be utilized as part of the Korean tourism overseas advertisements.
The Korea Tourism Organization representative expressed their commitment to ensuring that the global appeal of K-culture translates into actual visits to Korea. With the Challenge Korea campaign, they aim to create a resonance among people worldwide and inspire them to embark on an unforgettable journey to Korea.
By Intae Jung/Korea Travel News