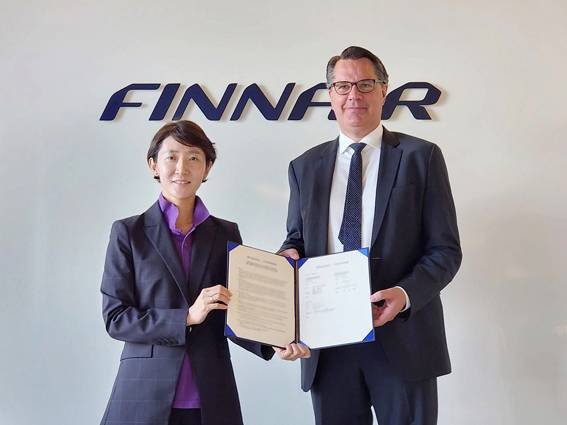 In a groundbreaking move aimed at spearheading sustainable travel practices, Hana Tour, a leading travel company, has joined forces with Finnair, Finland's flagship airline. The strategic partnership, solidified by a comprehensive business agreement signed on June 26, signifies their shared commitment to developing sustainable travel products and promoting environmentally friendly initiatives within the industry.
The signing ceremony, held at Finnair's headquarters in Vantaa, Finland, witnessed the presence of key industry figures. Song Mi-sun, CEO of Hana Tour, and Ole Orver, Senior Vice President of Finnair's Commercial Division, alongside Eveliina Huurre, Senior Vice President of Sustainable Business at Finnair, underscored the significance of the collaboration and their united focus on sustainability.
With growing global recognition of Environmental, Social, and Governance (ESG) principles, Hana Tour and Finnair are poised to address pressing environmental challenges and actively reduce carbon emissions. The partnership will concentrate on the development of innovative sustainable travel products while emphasizing the use of Sustainable Aviation Fuel (SAF) to minimize the carbon footprint associated with air travel.
Leveraging Hana Tour's renowned expertise in travel product planning, the collaboration will pave the way for an extensive range of sustainable travel offerings, immersing travelers in Finland's breathtaking landscapes while promoting responsible tourism. From eco-friendly accommodations to nature-centric excursions, these offerings will align with sustainable travel principles and provide travelers with unique experiences that prioritize environmental preservation.
Taking their commitment a step further, Hana Tour plans to actively participate in the purchase of SAF, a pivotal component in the ongoing efforts to reduce carbon emissions from flights. By actively supporting sustainable aviation practices, the company aims to make a significant contribution to global climate change mitigation and pave the way for a greener future in the travel industry.
With Finland as the focal point, Hana Tour will explore and expand sustainable travel products not only within the country but also in other European regions. Capitalizing on Finland's well-established infrastructure and vast potential for sustainable tourism, the partnership aims to offer travelers enriching experiences that align with sustainable travel principles.
Expressing her enthusiasm for the partnership, Song Mi-sun, CEO of Hana Tour, said, "As sustainability takes center stage on a global scale, we are proud to collaborate with Finnair, an industry leader in carbon emission reduction. This agreement signifies a significant step towards introducing and advancing sustainable travel practices in the Korean travel market. We remain dedicated to promoting responsible travel and making a positive impact on the environment."
The collaboration between Hana Tour and Finnair exemplifies their unwavering dedication to transforming the travel industry into a more sustainable and environmentally conscious sector. By combining their strengths, the companies aim to inspire other industry players and travelers alike to embrace sustainable travel practices, setting a precedent for a greener future in the world of travel.
By Jungchan Lee/Korea Travel News