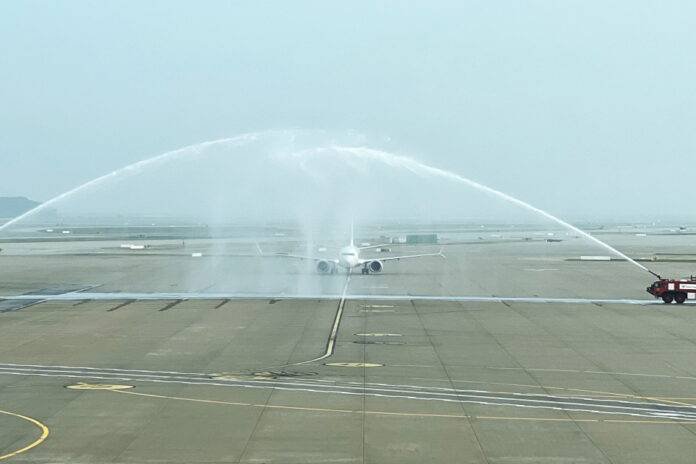 Batik Air Malaysia, a prominent Malaysian airline, commemorated its first flight to Korea on June 24, 2023. To mark this significant milestone, the airline organized a grand event on July 3, 2023, which included a press conference and VIP meetings, inviting key partners from the domestic travel industry.
Press Conference and VIP Meetings:
Batik Air Malaysia held a press conference attended by Yogananthan Muniandy, the Chief Sales Officer, and Suresh Vanan, the Head of Marketing and Communications. This gathering was an opportunity for the airline to engage with major media outlets and discuss its expansion into the Korean market. Additionally, VIP meetings were conducted, where representatives and executives from leading domestic travel industry partners participated, fostering meaningful communication.
Water Salute Ceremony:
In a show of celebration, Batik Air Malaysia conducted a water salute ceremony at Incheon International Airport on June 24, 2023. This ceremony, the first of its kind in nearly seven years at the airport, added a special touch to the inaugural flight.
Route and Flight Details:
Batik Air Malaysia operates daily flights on the Incheon-Kuala Lumpur route. Departing from Incheon at 7:00 AM, the flights arrive in Kuala Lumpur at 12:50 PM. The return flights depart Kuala Lumpur at 10:30 PM, reaching Incheon at 6:00 AM the next day. The night schedule allows passengers to make the most of their time in Kuala Lumpur.
Fleet and Services:
Batik Air Malaysia boasts a modern fleet consisting of ATR72-600s and Boeing 737 MAX 8/800 NG aircraft. With spacious seating and in-flight entertainment options, the airline ensures a comfortable and enjoyable travel experience for its passengers.
Partnerships and Future Plans:
As a member of the Lion Air Group, Batik Air Malaysia connects Malaysia to over 57 destinations, including Indonesia, Singapore, Vietnam, Thailand, Australia, and the Maldives. The airline is dedicated to expanding its international routes, with Kuala Lumpur International Airport serving as its strategic hub.
Booking Information:
Passengers can conveniently book their Batik Air Malaysia flights through the official website (www.malindoair.com) or the Batik Air mobile app. Additionally, authorized travel agencies offer booking services for those seeking assistance.
Batik Air Malaysia's inaugural flight to Korea signifies a significant milestone in the airline's expansion efforts. With its commitment to exceptional service and plans for future growth, Batik Air Malaysia continues to establish itself as a prominent player in the aviation industry.
By Jungchan Lee/Korea Travel News