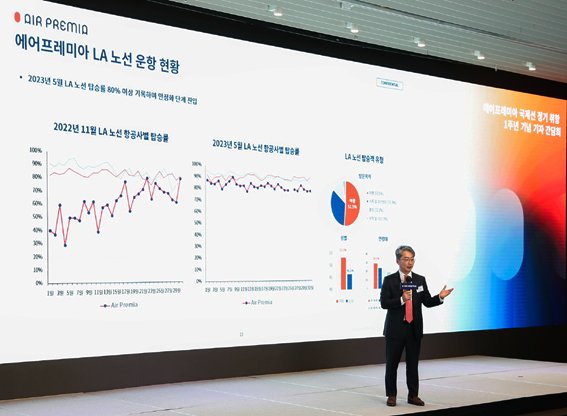 Seoul-based hybrid airline Air Premia made headlines recently as it unveiled its bold vision for the future. During a press conference held at the Glad Hotel in Yeouido, Seoul on June 14th, Air Premia outlined its plans to achieve a staggering revenue target of KRW 1.15 trillion within the next five years, propelled by the expansion of long-haul routes and a commitment to customer-centric services.
With an unwavering focus on delivering affordable luxury, Air Premia aims to disrupt the global aviation market by combining the best of both worlds: low-cost carrier attributes and premium inflight experiences. By offering competitive fares and a range of high-quality services, the airline aims to attract a diverse clientele, catering to both budget-conscious travelers and those seeking superior comfort and convenience.
"Our goal is to provide a unique and unparalleled flying experience to our customers," said a spokesperson for Air Premia. "We believe that by offering affordable luxury, innovative cabin designs, and state-of-the-art inflight entertainment, we can redefine the expectations of air travel."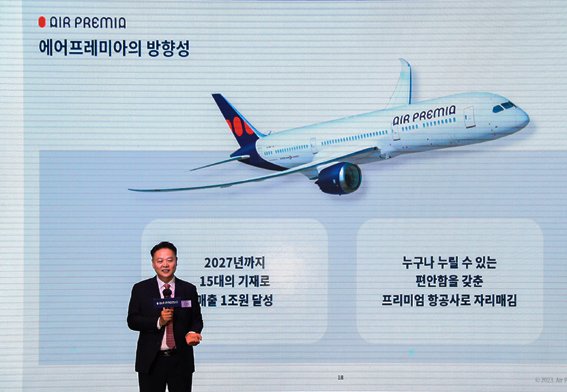 In addition to its existing routes, Air Premia plans to expand its network of long-haul destinations, including major cities in North America and Europe. The airline is currently evaluating the feasibility of adding routes to cities such as Paris, Rome, Barcelona, Seattle, and Hawaii. By capitalizing on the growing demand for international travel and the trend of expanding long-haul routes, Air Premia aims to achieve its ambitious revenue targets while providing seamless connectivity options to its passengers.
Customer satisfaction lies at the heart of Air Premia's growth strategy. The airline has already garnered positive feedback from passengers, with consistently high load factors on its international routes since their launch. Within just five months of commencing international operations, Air Premia achieved load factors of over 80% on its regular scheduled routes, showcasing a strong demand for its services.
Passengers have praised Air Premia's commitment to customer-centric services, citing comfortable seating, delectable onboard meals, and friendly cabin crew as key highlights of their experience. In an independent Net Promoter Score (NPS) survey conducted by Air Premia, customers expressed a strong likelihood to recommend the airline to others, with an overall NPS score of 70—an excellent rating in the industry.
As Air Premia looks ahead, industry experts anticipate its growth plans to have a profound impact on the aviation market. The airline's unique combination of affordability and luxury, coupled with its commitment to customer satisfaction, positions it as a potential disruptor in the industry. Increased competition among airlines, enhanced connectivity options for travelers, and a revitalization of the aviation sector as a whole are some of the expected ripple effects of Air Premia's expansion.
By focusing on providing an exceptional flying experience, Air Premia aims to captivate the attention of discerning travelers seeking a blend of value and comfort in the skies. As it prepares to launch its inaugural flight to Frankfurt and explores new international destinations, Air Premia is set to redefine the future of aviation. All eyes are on this ambitious airline as it strives to achieve its impressive revenue targets while revolutionizing the way people fly.
By Jungchan Lee/Korea Travel News